Media Sources
Last updated May 14th, 2019 | Page history | Improve this page | Report an issue
Media Sources are only available in MODX Revolution 2.2 or later.
What are Media Sources?¶
Media Sources are a feature in MODX Revolution, where one can specify the "source" of media in their MODX installation. This is visualized in many ways - the most common being in the left-hand Files tree, the MODX.Browser window, and file and image TVs.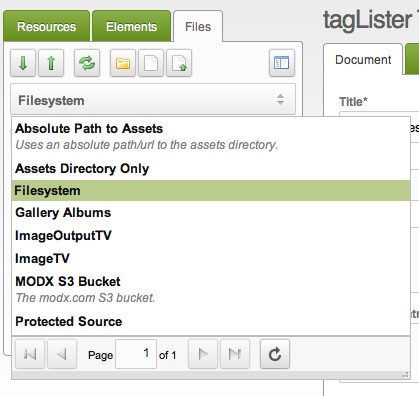 A source can be many types - from the file system itself, to an Amazon S3 bucket, to a Flickr album. MODX provides two source types with the core installation: the file system and Amazon S3 bucket integration. Other sources can be made by creating Media Source Drivers, or by downloading them from Package Management.
Using Media Sources¶
The following articles describe basic usage of media sources.
See Also¶
Support the team building MODX with a monthly donation.
The budget raised through OpenCollective is transparent, including payouts, and any contributor can apply to be paid for their work on MODX.
Backers
Budget
$376 per month—let's make that $500!
Learn more