Assigning to a User Group
Last updated Apr 30th, 2019 | Page history | Improve this page | Report an issue
This article describes how to edit a Dashboard, including on how to assign and arrange Widgets for that Dashboard.
First off, find the User Group that you would like to assign the Dashboard to, and edit it. You can do so by "Menu" -> "Access Controls", then right-clicking on the group in the User Groups tree, and clicking "Update User Group".
From there, you can simply click on the "Dashboard" dropdown, and select the Dashboard you want to assign to this User Group. All users in this group that have this group as their Primary Group will load that Dashboard instead of the Default now.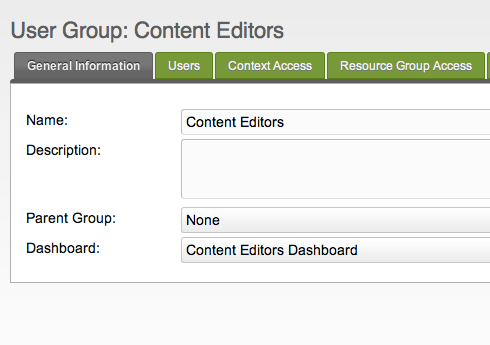 See Also¶
Support the team building MODX with a monthly donation.
The budget raised through OpenCollective is transparent, including payouts, and any contributor can apply to be paid for their work on MODX.
Backers
Budget
$393 per month—let's make that $500!
Learn more