URL TV Output Type
Last updated May 17th, 2019 | Page history | Improve this page | Report an issue
URL TV Output Type¶
This output-type allows you to wrap an link (a-tag) around the input (normally should be input-type: "text").
Output Options¶
It's output options look like: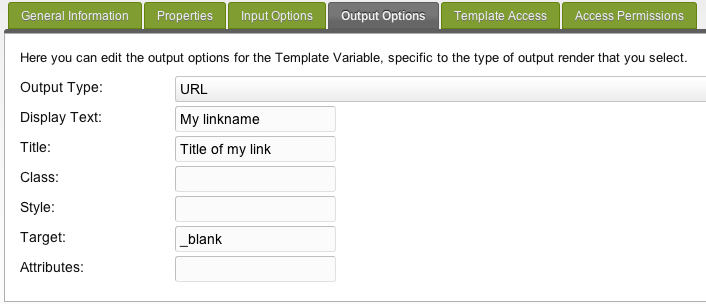 | Name | Description |
| --- | --- |
| Output type | The option to be outputted to the frontend. Value: URL |
| Display text | text that is displayed as link text instead of the URL |
| Title | title tag for the link-title |
| Class | CSS class to attach the img tag |
| Style | Any CSS style-attributes to add to the tag |
| Target | target of the link, should be left blank but could be "_blank" |
| Attributes | any other HTML-attributes you want to add to the tag |
See Also¶
Support the team building MODX with a monthly donation.
The budget raised through OpenCollective is transparent, including payouts, and any contributor can apply to be paid for their work on MODX.
Backers
Budget
$305 per month—let's make that $500!
Learn more