TV Default
Last updated Apr 30th, 2019 | Page history | Improve this page | Report an issue
The TV Default Value Rule¶
The TV Default Value Rule, if set, will set the default value for a TV.
This only works on "create" Actions, not "update" Actions.
Usage¶
The values for the Rule should be as follows:
Name: The ID of the TV prefixed with 'tv'; for example, for the TV with ID 23, 'tv23'
Containing Panel: 'modx-panel-resource'
Rule: 'TV Default Value'
Value: The value you want to set as the default.
Examples¶
An example Rule of setting the default value for a TV with ID 23 to "test" is: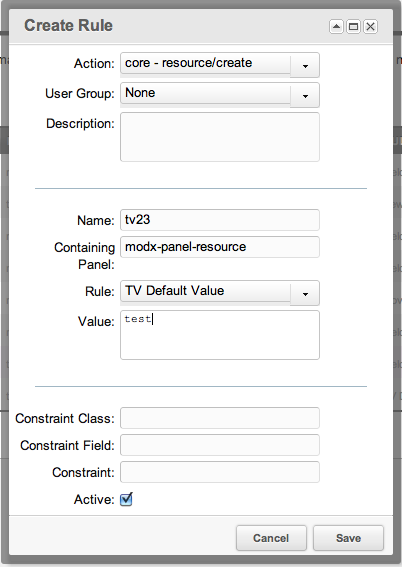 See Also¶
[[getResources@section? &parents=`313` &context=`revolution`]]

Support the team building MODX with a monthly donation.
The budget raised through OpenCollective is transparent, including payouts, and any contributor can apply to be paid for their work on MODX.
Backers
Budget
$305 per month—let's make that $500!
Learn more